Date Published: 09/20/09
Ogbulafor moves to stop removal as PDP Chairman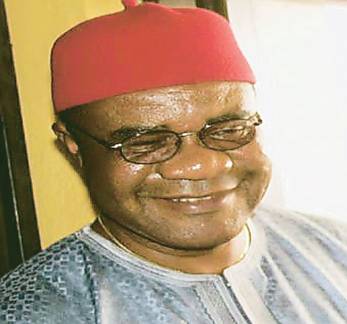 Vincent Ogbulafor, PDP Chairman
National chairman of the ruling Peoples' Democratic Party (PDP), Prince Vincent Ogbulafor has begun moves to frustrate plans by some hawks in the party to unseat him.
Even though PDP's next national convention is slated for March 2010, fears are rife that Ogbulafor may be forced to "resign" his position just like former President Olusegun Obasanjo reportedly forced Chief Audu Ogbeh to do in 2005 to pave way for an appointed successor, Dr. (Col.) Ahmadu Ali.
Alternatively, a no-confidence vote could be passed on the Ogbulafor-led executive when the party's National Executive Committee (NEC) meets next Thursday in Abuja, paving the way for the removal of the officers. NEC is the second most powerful organ of PDP after the national convention.
Pointblanknews.com gathered that Ogbulafor, who is considered in PDP circles as "very cocky," has of late become "unusually friendly," never hesitating to trade banters with other party officers, especially his deputy, Mohammed Bello.
Bello, a retired customs' boss, is considered the most powerful officer in PDP today and the man who guarantees Ogbulafor the easiest passage to President Umaru Yar'Adua.
Yar'Adua himself was reportedly displeased with Ogbulafor's handling of Anambra PDP that, in the President's consideration, was responsible for over 50 persons aspiring to pick the party ticket. The President reportedly conveyed his displeasure when he met with members of the National Working Committee (NWC) earlier in the week in Abuja.
Sources close to the embattled PDP national chairman informed Pointblanknews.com that Ogbulafor had begun mending fences with perceived enemies in the party particularly former President Olusegun Obasanjo.
Ironically, Ogbulafor led a near successful campaign to unseat Obasanjo as chairman of the party's Board of Trustees. The embattled PDP chairman, who Obasanjo appointed minister in 2000, has reportedly begun to mend fences with the governor with the shortest reign in Nigerian history, Chief Andy Uba. Andy was Obasanjo's closest aide and reportedly assisted Ogbulafor to become PDP national secretary in 2002.
"Oga strongly believes Andy is the arrowhead of the opposition to his continued stay in office. He has been sending emissaries to the former governor with the aim of securing his support. But for a few hitches, both men would have sealed a deal long ago," offered the source.
Also earlier in the week, Ogbulafor got the chairmen of four states' chapters in his south-east zone to write the President on why he (Ogbulafor) should be allowed to continue in office. The appeals were copied members of the NEC.
In the "Declaration of a vote of confidence on the national chairman, Prince Vincent Eze Ogbulafor, OFR" the PDP chairmen upbraided "disgruntled elements" for seeking to "stigmatize the person of the national chairman." This, the chairman reckoned, was done "in the proverbial sense of giving a dog a bad name in order to hang it," but insisted that "Prince Vincent Ogbulafor remains, without any reservation, our preferred national chairman."
In the letter dated 14 th September, 2009, the state PDP chairmen commended Ogbulafor for "an effective job in reconciling and stabilizing the party," stressing that "his collegiate and consensual strategy has helped NWC survive major controversies, and brought modesty and humaneness to the office of the national chairman."
Signed by the Ebonyi state PDP chairman, David Umahi, Ndidi Okereke of Abia state, Vita Abba of Enugu state and Mercellenius Nlemigbo of Imo state, the letter was full of praises for Ogbulafor for being "both an unquestionable loyalist of the President and an indefatigable supporter of the President's seven-point agenda."
Rather than calm frayed nerves, Pointblanknews.com gathered that the solidarity expressed by the four chairmen may actually have back-lashed, with some party chieftains grating the state chairmen for behaving like cheerleaders.
"I think it was very dumb for the chairmen to have put their signatures on such a letter. In my opinion it was a very big mistake. Do you know how large NEC membership is? About 100 members. So what does Ogbulafor think four members can achieve for him?" queried one national officer.
"Did you hear the party chairmen talking about their national chairman being 'an unquestionable loyalist of the President?' That is nonsense. It was an anathema to describe Chief Adisa Akinloye as loyal to Shehu Shagari. Not even Solomon Lar, Barnabas Gemade or Audu Ogbe affirmed their loyalties to (former President) Obasanjo. Yar'Adua should be loyal to his national chairman and not the other way round. It was so sad they had to expose their naiveté in public."
Sources close to Ogbulafor told Pointblanknews.com that, "even though we knew oga (Ogbulafor) had a problem with some interest groups in the party, it was not until the Anambra primaries issue cropped up that we realized how deep the forces had eaten into our chances of continuing as PDP chairman."
According to some of the sources, Ogbulafor was technically barred from making the minutest input into how to conduct the Anambra primary election.
"Ogbulafor was told in no uncertain terms to steer clear of Anambra by his colleagues in the NWC, implying that they had lost confidence in his ability to be neutral. And once such is said about the national chairman of a party, the path of honor is to resign. But you know Ogbulafor cannot imagine himself resigning from chairing a party he boasted would rule for a minimum of 60 years," the source declared.
A welder by training, Ogbulafor is considered in several circles as the least educated person to chair the PDP, considered the largest political party in Africa.
A recent report by the Independent Corrupt Practices and Other Related Offences Commission (ICPC) indicted the PDP chairman for misappropriating over N100 million when he was minister of Economic Planning. Even though the commission recommended Ogbulafor for trial, many believe the recommendation is being put on hold because of Ogbulafor's present office.
The PDP national chairman was also recently in the news for allegedly buying a N400 million mansion in highbrow Asokoro, Abuja, a few months after he assumed the party leadership. The alleged purchase, in the estimation of several party chieftains, fuelled suspicion that Ogbulafor, who a few months before becoming the PDP chairman, had put up a section of his modest house in Gwarinpa Estate, Abuja, for sale, was using his office as PDP national chairman to enrich himself.