NIGERIAN SENATOR IN GREEN CARD MARRIAGE SCANDAL …ABANDONS CHILD IN AMERICA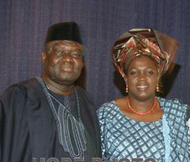 Senator Ehigie Uzamere aka "Godwin Uzamere" and his Nigerian wife
Few days after a Nigerian senator, Nuhu Aliyu, alleged that there are criminals, and persons of questionable character who are members of the Nigeria legislature, another bombshell has dropped on one of his colleagues, Senator Ehigie Edobor Uzamere.
When Senator Aliyu, ex policeman, and intelligence officer took that shot at his colleagues, they protested, he was pressured by the leadership of the senate to eat his words and apologize. He did. But in a chat with pointblanknews.com, he maintained though, " I served the Nigeria Police for 35 years, I was in charge of the criminal Investigation Bureau, and was also in charge of Interpol...if i make a statement, it is a statement of fact"
Uzamere is alleged to have, 28 years ago, tricked a young African-American woman into marriage in Brooklyn New York, used her to change his status, got her pregnant and bolted to Nigeria to marry his childhood sweetheart, Iriongbose Irowa in 1982.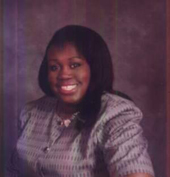 Cheryl D. Uzamere, Senator Uzamere Abandoned American Wife
According to the allegations, Uzamere did not bother to divorce his American wife before moving on.
The person behind these allegations is the President of the US based African Diaspora Enterprises, Ms Cheryl Denise Uzamere, whom according to court documents, Uzamere married in 1979.
According to her, Uzamere who is chairman committee on local and foreign Debt has refused to have contact with her or their 27 year old daughter, Tara.
Cheryl, who filed for a divorce in July 2007, is demanding an inquest into the matter, and $20million compensation, child support inclusive.
She has also urged the Nigeria government to look into the matter.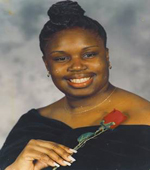 Tara Uzamere, Senator Uzamere's American Daughter
We tried to contact the senator who represents Edo south, but several phone calls and text messages to him in Abuja were ignored. But his kid brother, a New York based Attorney, Eugene Uzamere, described Cheryl's allegations as the ranting of "a certifiably insane woman".
According to her when all efforts to locate Senator Uzamere failed she turned to the Nigeria consulate in New York. Cheryl's said she last saw the senator around 1982, when he showed up briefly in the US and varnished.
The pain, pregnancy, and abandonment, made her lose her home, her job, and eventually made her mentally ill, she said
Recalling her sad tale Cheryl said "He was a breath of fresh air, became my answer to having a husband. I became pregnant same month we started dating, I was sure i was in love...After getting pregnant Uzamere and his brother, Nosayaba(John), wanted me to get an abortion, but i refused. He has told his family Tara is not his child. has spoken to her only thrice in 1998 2003, and 2006. In 1998 he called but refused to tell his kid where he was. My daughter felt really bad and cried all day, all I could do was hug her. I have filed for a divorce, but his lawyer Jack Gladstein is yet to respond. "
Shortly after the marriage, she alleged further, Uzamere left her promising to return to get her, but never did.
In a telephone chat with pointblanknews.com, Uzamere's brother Eugene said" Most of her commentaries are misguided, and I wont give credence to them. She is basically crazy. I won't give credence to insanity. She is certifiably insane. That is all I have to say. She is crazy."
But what Eugene failed to tell us are, were they married, did Uzamere, a chieftain of the ruling Peoples Democratic Party (PDP), abandon his wife and daughter, has been paying child support.
On her part Cheryl is not relenting. According to her "whether he recognizes me as his wife is inconsequential. I am his wife in long term marriage, and based on that I am eligible for an equitable share of his assets"
| | |
| --- | --- |
| Cheryl Uzamere's push for justice video | |
| | |
-------------------------------------------------------------